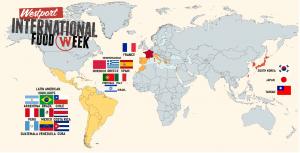 A Culinary Trip Around the World Right Here in Kansas City's Historic Westport District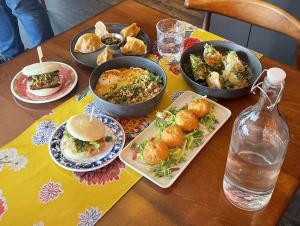 Chewology – Taiwanese Street Food is participating during Westport's International Food Week
Special Menu Options at Participating International Restaurants are Only Available April 23-29
Westport's First International Food Week uses special menus with foods only available at this event or bundled to get several things to try. Buen provecho!"
— Kim Kimbrough, Executive Director of the Westport Regional Business League
KANSAS CITY, MO, UNITED STATES, April 21, 2023/EINPresswire.com/ — Westport invites the community to the Westport International Food Week from April 23 to April 29. This inaugural event showcases the diverse and authentic cuisine from around the world from this original part of Kansas City.
The historic Westport of Kansas City is known for its diversity of local restaurants with chefs influenced by family and training from all over the world.
Participating restaurants include:
• Brix, serving Latin American dishes at 4112 Pennsylvania Ave
• Ça Va offering French cuisine at 4149 Pennsylvania Ave
• Chewology featuring Taiwanese cuisine at 900 Westport Rd
• Chingu focused on Korean street foods at 4117 Pennsylvania Ave
• Jerusalem Cafe presenting Mediterranean cuisine at 515 Westport Rd
• Kobi-Q Sushi showcasing Japanese cuisine at 425 Westport Rd
Each restaurant will offer a special menu during the week, highlighting its signature dishes and flavors. Diners will find a wide range of international foods, all steps away from each other in this walkable and vibrant district. Westport has something to satisfy every taste and price range. Whether the dining party is in a mood for spicy Korean BBQ, the fresh-mixed ingredients in the Latin American-influenced cocktails and foods at Brix, or the Taiwanese pot stickers and pillowy-soft dough of bao at Chewology, diners can "travel the globe" and find specially featured items and combinations during Westport's International Food Week.
Diners can indulge in the tastes of the world without leaving the city. Some of the special menus pair an appetizer, entrée, and dessert or internationally-inspired drinks as options to offer a full dining experience.
"We are thrilled most of Westport's restaurants featuring international food jumped on board Westport's first International Food Week," said Kim Kimbrough, Executive Director of the Westport Entertainment District. "The special menus are only available during this event because many items take more time to prepare or are offered in combinations at an exceptional value to encourage trying several things. Buen provecho and bon appetite."
While Westport has many other restaurants with international cuisine, only those listed will participate in Westport's International Food Week, which requires special menus for the occasion.
ABOUT WESTPORT
Westport is a historic Kansas City neighborhood founded in 1833, where its walkability and concentration of establishments are especially valuable today. Local businesses primarily occupy its pedestrian-scaled brick buildings with original offerings, including diverse restaurants, nightlife hot spots, patios, shops, and services. Westport is between 39th Street and 43rd Street to the north and south and between Main Street and Southwest Trafficway to the east and west.
Stacey McBride
O'Neill Marketing & Events
email us here
Visit us on social media:
Facebook
Twitter
Instagram


Originally published at https://www.einpresswire.com/article/629183489/westport-international-food-week-launches-first-culinary-journey-across-the-globe-in-kansas-city-s-historic-district