Sabika Jewelry Founder Karin Mayr (center) with her daughters Executive Director of Sales & Marketing Miriam Mayr (left) and CEO & Head Designer Alexandra Mayr-Gracik (right).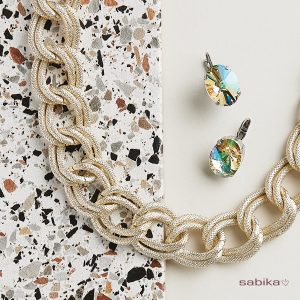 Some pieces from the Sabika Fall 2023 Collection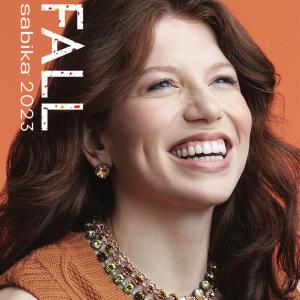 Sabika Fall 2023 Collection
Timeless designs are given a modern twist in this new, breathtaking collection
This season's crystal colors are infused with the allure of autumn's rich hues, using warm tones to captivate the senses."
— Alexandra Mayr-Gracik, Sabika Jewelry CEO & Head Designer
PITTSBURGH, PENNSYLVANIA, UNITED STATES, September 1, 2023/EINPresswire.com/ — Sabika Jewelry (Sabika), a company by women for everyone headquartered in Pittsburgh, PA, is pleased to announce the launch of its Fall 2023 Collection. The new handcrafted collection draws inspiration from the changing fall landscape with its bold statement pieces and sophisticated details, and will be available on September 1, 2023.
"As a designer, I find immense inspiration in the changing colors and textures of fall and nature's time to transform itself in beautifully unexpected ways," said Alexandra Mayr-Gracik, Sabika Jewelry CEO & Head Designer. "This season's crystal colors are infused with the allure of autumn's rich hues, using warm tones to captivate the senses."
The collection features 10 color stories with coordinated pieces in deep, rich earth tones that combine intricate, elegant details and quiet beauty in each story. Shapes and colors for all new Sabika collections are informed in trend reports by Sabika founder Karin Mayr who reviews runway fashion trends and develops mood boards that reflect the latest clothing styles and hues.
"Our Fall 2023 color stories perfectly complement the season and aim to evoke the feeling of the autumn months," said Karin Mayr, Sabika Jewelry founder and experienced trend forecaster.
To bring the collection to life – Sabika Jewelry always utilizes local women to model their jewelry for their catalogs and website. This year features women who come from a multitude of fields from local Pittsburgh artists, a diversity & inclusion specialist, a disability advocate and more. Mayr-Gracik explained that this shows how the jewelry works for a wide range of looks and lifestyles.
"The Fall 2023 collection focuses on a harmonious blend of sophistication and individuality." said Mayr-Gracik.
"Whether you are a fashion enthusiast that simply needs a few pointers, are busy pursuing a career or raising a family, a Sabika Stylist can elevate your current wardrobe adding curated confidence to your closet. Plan a one-on-one Styling Session or Shop Sabika with friends to try jewelry from our latest collections and learn about our pieces that are created using the highest quality components sourced throughout Europe."
The Sabika Fall 2023 Collection will launch on September 1, 2023 and will be available for a 3-month period before the next seasonal collection releases. Sabika launches full collections for each season Spring, Summer, Fall and Winter, and two ALMI by Sabika Collections each year.
Ready to tell your style story? Treat yourself to a Sabika styling session and let your individuality shine through.
About Sabika Jewelry

Sabika Jewelry (Sabika) was founded in 2001 by Karin Mayr at the age of 50 with the sole purpose of caring for her family. Determined to build a company to connect women from all communities, her compassion and love have become a cornerstone of Sabika, elevating its product, services and each connection made by the Sabika Family. A women-founded and led, artisan-made brand and Social Selling Platform, it has become a multimillion-dollar family-owned jewelry company.
Founded and headquartered in Pittsburgh, PA, Sabika uses rare and unique components sourced from leading vendors across Europe. Female artisans throughout Austria and Germany then craft each piece using sustainable and eco-conscious finishing methods. Sabika's customers and independent stylists span across the United States. Giving back to the community and creating opportunity is part of Sabika's mission. Since its inception and together with Sabika Stylists, the company has raised over $4.27 million for local and national charities. Visit sabika-jewelry.com to learn more.
Darice Nagy
Green Dot Communications
email us here
Visit us on social media:
Facebook
Instagram
YouTube
Sabika Fall 2023 Collection


Originally published at https://www.einpresswire.com/article/653305913/sabika-jewelry-announces-launch-of-fall-2023-collection