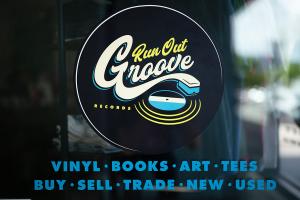 Run Out Groove Records, located in Burbank, California
Vinyl Record Store Also Announces Its Official Plans for Annual Record Store Day Event
We are thrilled to host Koury Angelo's gallery show. His photographs perfectly capture the magic of live music and we are excited to share this unique collection with the Burbank community."
— Ellen Rehak, RUN OUT GROOVE RECORDS co-owner
BURBANK, CALIFORNIA, US, April 10, 2023/EINPresswire.com/ — RUN OUT GROOVE RECORDS, a record store that has become a local favorite for its vast selection of rare vinyl and eclectic music memorabilia, is proud to announce the debut of renowned photographer Koury Angelo's latest gallery show, Soundwaves.
The show, which opens on Saturday, April 15, 2023, from 7–10 PM, will feature Angelo's impressive collection of Coachella and other music festival photographs, showcasing his keen eye for capturing the energy and excitement numerous festivals over the past decade.
With years of experience photographing some of the world's most iconic musical acts, Angelo has established himself as one of the industry's most sought-after photographers. His impressive body of work includes capturing candid moments of artists such as Billie Eilish, The Weeknd and Drake to name a few.
"We are thrilled to host Koury Angelo's gallery show," said Ellen Rehak, RUN OUT GROOVE RECORDS co-owner. "His photographs perfectly capture the magic of live music, both on stage and off, and we are excited to share this unique collection with the Burbank community."
In addition to Angelo's striking photography, RUN OUT GROOVE RECORDS will also offer a unique selection of memorabilia from past Coachella shows, curated by the store's co-owner and longtime Coachella attendee, Jeff Ferguson. Visitors to the store can view and purchase rare items such as vintage t-shirts and other exclusive merchandise.
Following opening night, the gallery show will be open to the public during regular store hours, Wednesday through Sunday, 11 AM – 6 PM, for the rest of April and May.
Later in April, the store will participate in this year's Record Store Day festivities on April 22, 2023. Doors for this year's event open at 8 AM; however, the city of Burbank has asked fans not to start lining up until after 6 AM.
From the list of over 130 exclusive titles, the store can already confirm records from The Rolling Stones, Chet Baker, Stevie Nicks, Larry Coryell, The Cure, Pearl Jam, John Doe, Blur, Charlie Parker, The Ramones, Val Halen, Foals, Jazz Dispensary, Archie Shepp, Max Roach, Brownout, Taylor Swift, and many more. The store will also celebrate the day with limited edition T-shirts and tote bags by legendary designer Bill Green.
For more information about RUN OUT GROOVE RECORDS, follow us on Instagram @runoutgrooverecords, on Facebook at facebook.com/runoutgrooverecords, or runoutgrooveburbank.com.
ABOUT RUN OUT GROOVE RECORDS
RUN OUT GROOVE RECORDS is a boutique vinyl record store in Burbank, California's Magnolia Park shopping area, specializing in rock, jazz, and more from the 1960s and later. The store also features vintage concert posters, tees, and curated books about your favorite musicians.
RUN OUT GROOVE RECORDS is owned and operated by Ellen Rehak and Jeff Ferguson.
ABOUT ELLEN REHAK
After a long career in hospitality, including stints at the legendary music venue, Largo in Los Angeles and, most recently, the beloved L&E Oyster Bar in Silver Lake, Ellen Rehak, a lifelong music lover, is happily stepping into her role as a business co-owner of RUN OUT GROOVE RECORDS.
ABOUT JEFF FERGUSON
When Jeff Ferguson is not handling the buying desk and pricing at RUN OUT GROOVE RECORDS, he is the owner/operator of Amplitude Digital, a digital advertising media agency located in Burbank, California. Jeff is also passing on his knowledge to the next generation of marketers as an adjunct professor at UCLA Extension, teaching Advanced Digital Marketing and Search Engine Optimization for Marketing courses.
###
Jeff Ferguson
Run Out Groove Records
+1 626-755-0995
email us here
Visit us on social media:
Facebook
Instagram


Originally published at https://www.einpresswire.com/article/627110977/photographer-koury-angelo-to-debut-coachella-collection-at-gallery-show-in-burbank-s-run-out-groove-records