Workforce suppliers and distributors around the globe have found a high-quality apparel source at manufacturer-direct prices as the company continues aggressive expansion into new markets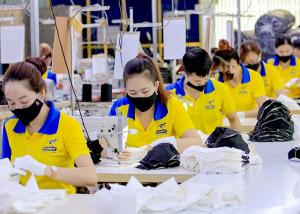 Vietnam clothing manufacturer Unveils Quality Uniforms and Workwear for Clients in Europe, America, Asia and the Middle East
Vietnamese Garment Manufacturer Introduces New Strategy: Delivering High-Quality Products at Prices Competitive with China to Attract Global Customers
Our main goal is to prove that DONY, and the Vietnamese garment industry in general, should be the first choice for well-made apparel production."
— Pham Quang Anh, CEO of Dony Garment
HO CHI MINH, VIETNAM, May 23, 2023/EINPresswire.com/ — Vietnamese garment manufacturer Dony Garment is stepping up to meet the apparel needs of growing numbers of US and European companies seeking high-quality, low-cost manufacturing services.
Dony Garment has a state-of-the-art factory that is equipped with advanced machinery and technology to produce high-quality apparel at scale. The company's production capacity is vast, with the ability to produce up to 50,000 pieces per day. Additionally, Dony's skilled workforce is trained to handle various apparel types, including T-shirts, outerwear, pants, dresses, hats, and more. The company's efficient supply chain management ensures that orders are processed and delivered to customers quickly and reliably.
The company's CEO, Pham Quang Anh, said that: "DONY has long-standing global partnerships in the US and Europe, and is ready to showcase the quality and affordability of Vietnamese producers as companies look beyond Chinese manufacturers for their apparel needs".
As a result, Dony Garment is helping to put the spotlight on Vietnam's clothing industry, positioning itself as a viable alternative to Chinese manufacturers. With a growing list of clothing wholesalers from the US and Europe relying on Dony Garment to produce high-quality, affordable apparel, the company is proving that Vietnam's garment industry should be the first choice for well-made apparel production.
Working with Dony Garment has several benefits for US and European companies seeking a reliable and affordable apparel manufacturer. Dony offers faster turnaround times and lower minimum order quantities than many competitors, making it an ideal choice for smaller businesses or companies with time-sensitive projects. Additionally, Dony's pricing is highly competitive, with lower costs than Chinese manufacturers in many cases. This combination of speed, affordability, and quality has made Dony a popular choice among wholesalers and retailers around the world.
"Our main goal is to prove that DONY, and the Vietnamese garment industry in general, should be the first choice for well-made apparel production," said Pham. "We believe our recent partnerships with wholesalers that have been long-time buyers in the Chinese marketplace can serve as a guide to more opportunities for collaboration that benefits the entire industry and consumers worldwide."
Dony Garment's reputation for strict quality controls and lower pricing than many competitors has won over wholesalers who appreciate the company's commitment to customer satisfaction. In addition to various apparel options, Dony Garment also works with wholesalers to create custom products, offering a one-stop shop for wholesale apparel buyers.
Pham emphasized that Dony Garment's core value is customer satisfaction, and the company treats its clients as lifelong friends, not just numbers. "Our goal is to make all of our transactions a win-win situation for everyone involved," he said. "It doesn't matter whether you're a big or small business, we will work with you closely to ensure unmatched quality of garments."
Dony Garment's international partnerships with US and European companies are a testament to the company's passion and expertise in apparel production. As one of Vietnam's leading manufacturers, Dony Garment is committed to pursuing excellence and becoming the top manufacturer of high-quality clothing in the country. The company's wider vision is to rebrand Vietnam as a fantastic country with plenty of value and resources and to showcase the potential of the Vietnamese workforce.
Global Recognition
During the pandemic, Dony has flexibly turned to cloth-mask production to meet the rising demands for protective products around the globe caused by the fear of coronavirus infection. Dony dedicated that successful movement to its US business partners and others, who have maintained steady orders from Dony throughout the crisis.
Thanks to its own strategic turn and support from its partner, the company has managed not only to keep its revenue and production stable even in the outbreak but also to expand its scale and production. Dony's factory site was 420m2 before COVID-19 but increases to 1600m2 now.
Dony Masks, the company's key product during the pandemic, has gained prominent certification in quality and safety from Vietnam, French, Germany, and the United States. Among those, the REACH Certificate of Compliance from Germany is the most vital document as it certifies that Dony's product is compliant with the EU REACH regulation (EC).
The company's agility has made it one of the winners during this crisis as Dony Masks were exported in large shipments to the United States, Europe, the Middle East, Japan, Singapore, etc.
In order to continue its success, Dony has invested hugely in the research and development process. It aims to hit the market with protective gear including clothes, shoes, hats, and gloves to promptly serve the need of the current struggle against COVID-19.
On the evening of 5th June 2020, Dony Garment Company and other Vietnamese enterprises donated medical supplies to the US"s people.
At the Ceremony of Offering Medical Materials to the United States, Dony presented 100,000 antibacterial gauze masks worth more than VND 10.5 billion. Overcoming many businesses that have signed up to give antibacterial masks, through testing, only Dony Mask has met the quality standards for use in the US.
It's a big honor for DONY. Dony Mask is the only available reusable face mask that successfully passes through multiple quality checks, to be accepted for use in the U.S finally.
Mr. Daniel Kritenbrink, U.S. Ambassador in Vietnam has extended his heartfelt gratitude and confirmed that Operation USA Organization which is based in Los Angeles, USA will distribute these medical supplies to needy places such as California, New York, etc.
Mr. Henry Pham
Dony Garment Company – DONY MANUFACTURING COMPANY LIMITED
+84 93 884 21 23
email us here
Visit us on social media:
Facebook
LinkedIn
Other


Originally published at https://www.einpresswire.com/article/634965355/vietnamese-garment-manufacturer-launches-strategy-high-quality-cheaper-than-china-to-attract-international-customers