Kibaru is a leading elastomer manufacturer with various capabilities in rubber molding, rubber extrusion and liquid silicon rubber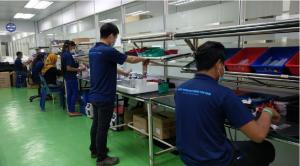 A significant portion of its sales come from assembly projects
Kibaru currently supports various medical devices customers and products are predominantly directly exported
Leading Malaysian contract manufacturer envisages that the acquisition will accelerate Group's ability to provide comprehensive solutions to its customers
Ge-Shen Corporation Berhad (KLSE:GESHEN)
This investment strengthens our product portfolio, especially in medical devices, and reinforces our commitment to providing our customers with innovative solutions tailored to their specific needs."
— Louis Lau
KUALA LUMPUR, MALAYSIA, August 3, 2023/EINPresswire.com/ — In a strategic move aimed at capitalizing on the growing demand for elastomer-based products, contract manufacturer company, Ge-Shen Corporation Berhad is pleased to announce its 60% investment in a state-of-the-art rubber and silicon rubber manufacturer, Kibaru Manufacturing Sdn Bhd. With the global rubber market anticipated to witness significant growth in the coming years, this investment positions our company at the forefront of this thriving industry.
Utilizing cutting-edge technology and innovative processes, the rubber compression moulding and liquid silicon rubber injection moulding manufacturer prides itself on delivering high-quality products to meet customer demands. With more than 60% of Kibaru's sales derived from medical devices, our acquisition will support Ge-Shen's effort to further our business development efforts in the medical sector. Furthermore, Ge-Shen will be able to cater to multiple industries such as industrial manufacturing where high quality rubber is a critical component to ensure stable product functionality, user safety and leak free products.
The key features and advantages of this investment opportunity include:
1. Advanced Technology: The manufacturer employs the latest machinery and automation systems, ensuring precision and consistent quality in every product.
2. Industry Expertise: Backed by a team of industry experts, the company brings decades of experience and extensive knowledge in rubber compression moulding and liquid silicon rubber injection moulding, providing a reliable foundation for future growth.
3. Sustainable Manufacturing: We are committed to environmentally-friendly operations, emphasizing sustainability in our processes and minimizing our carbon footprint. With the manufacturer's utilization of eco-conscious materials and responsible practices, our investment aligns with our long-term sustainability goals.
4. Market Potential: The rubber market is projected to grow significantly, driven by the increasing demand for rubber-based products in emerging industries. Our investment in the rubber compression moulding and liquid silicon rubber manufacturer ensures our company's position as a key player in this expanding market.
5. Box-build assembly and final packaging: Kibaru derived a significant portion of its sales from box-build and final packaging of medical devices including single use devices and medical equipment. By leveraging on Kibaru's expertise in this area, we will be able to incorporate capabilities from a range of materials which Ge-Shen currently offers including plastic injection moulding and metal fabrication.
"Our decision to invest in the Kibaru demonstrates our dedication to technological advancements and market-driven growth strategies," said Louis Lau, CEO of Ge-Shen Corporation Berhad "This investment not only strengthens our product portfolio, especially in medical devices, but also reinforces our commitment to providing our customers with innovative solutions tailored to their specific needs. With Ge-Shen's existing 100K Cleanroom injection moulding facilities and FDA-registered facility, and Kibaru's elastomer capabilities, we will be able to very quickly market assist global medical companies to ramp up their production in our facilities Malaysia. With this investment, we are taking another giant step to be a Globally Recognized Engineering and Manufacturing Solutions Provider"
Currently, Kibaru manufactures for clients globally and produces components and products including but not limited to medical ventilation machines, canister, curette for ear, nose, and throat as well as suction tube. Ge-Shen Corporation Berhad foresees multiple benefits arising from this acquisition, including strengthened market positioning, diversification of revenue streams, and expanded customer base.
Ge-Shen has also recently announced the acquisition of an industrial land and building measuring over 200,000 sqft, expanding the Group's manufacturing footprint by more than 35% to 750,000 sqft. With more manufacturing capabilities and capacity, the Group is positioning itself for much rapid growth in coming years.
—
About Ge-Shen Corporation Berhad

Ge-Shen Corporation Berhad (www.gscorp.com.my) is a contract manufacturer that specializes in plastic injection moulding, sheet metal fabrication and assembly services in 3 locations across South East Asia. Ge-Shen Corporation has years of experience helping product owners bring their ideas to life. It currently serves customers from various industries including the consumer electronics, household products, industrial, medical, and aerospace. Ge-Shen Corporation Berhad is listed on the main market of Bursa Malaysia Securities Berhad.
Louis Lau
Ge-Shen Corporation Berhad
+60 3-2785 0975
email us here
Visit us on social media:
LinkedIn
Originally published at https://www.einpresswire.com/article/647898200/malaysian-contract-manufacturer-doubles-down-on-medical-device-industry-by-investing-in-leading-rubber-part-company