Company's Zero-Waste Inspired® mission aligns with USDA objectives
BELVIDERE, NJ, Oct. 23, 2023 (GLOBE NEWSWIRE) — Edible Garden AG Incorporated ("Edible Garden" or the "Company") (Nasdaq: EDBL, EDBLW), a leader in controlled environment agriculture (CEA), locally grown, organic, and sustainable produce and products, today announced that the Company has received a grant from the United States Department of Agriculture Organic Certification Program administered by the Hackettstown Farm Service Agency.  These funds are designated to reimburse organic producers and handlers with financial assistance to reduce the costs associated with organic certification, as well as processing/handling certifications.
Mr. Jim Kras, Chief Executive Officer of Edible Garden, commented, "We are pleased to receive this grant from the USDA's Organic Certification Program, overseen by the Farm Service Agency. The grant provides reimbursement for a number of the costs associated with our organic crop certification, and related costs at our Belvidere, New Jersey facility. Being at the forefront of controlled environment agriculture and committed to local, organic, and sustainable produce, organic certification is a key advantage for the Company. This award builds on our existing collaborations with the USDA. Earlier this year, our Grand Rapids, Michigan-based Edible Garden Heartland facility also received a similar grant. Moreover, we're currently partnering with the New Jersey Institute of Technology, USDA, and EPA on research focusing on nanobubble technology's role in ensuring the safety of fresh produce and processing methods. The Company's Zero-Waste Inspired® mission aligns seamlessly with the USDA's objectives, and we are eagerly anticipating more opportunities to collaborate and contribute to the world of sustainable agriculture through future projects."
ABOUT EDIBLE GARDEN®
Edible Garden AG Incorporated is a leader in controlled environment agriculture (CEA), locally grown, organic and sustainable produce and products backed by Zero-Waste Inspired® next generation farming. Offered at over 5,000 stores in the US, Edible Garden is disrupting the CEA and sustainability technology movement with its safety-in-farming protocols, use of sustainable packaging, patented GreenThumb software and self-watering in-store displays. The Company currently operates its own state-of-the-art greenhouses and processing facilities in Belvidere, New Jersey and Grand Rapids, Michigan, and has a network of contract growers, all strategically located near major markets in the U.S. Its proprietary GreenThumb 2.0 patented (US Nos.: US 11,158,006 B1 and US 11,410,249 B2) software optimizes growing in vertical and traditional greenhouses while seeking to reduce pollution-generating food miles. Edible Garden is also a developer of ingredients and proteins, providing an accessible line of plant and whey protein powders under the Vitamin Way® and Vitamin Whey® brands. In addition, the Company offers a line of sustainable food flavoring products such as Pulp gourmet sauces and chili-based products.
For more information on Edible Garden go to https://ediblegardenag.com/.
Investor Contacts:
Crescendo Communications, LLC
212-671-1020
[email protected]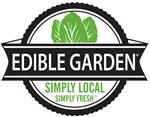 Originally published at https://www.einpresswire.com/article/663608698/edible-garden-receives-usda-grant-for-organic-certification-costs-for-its-belvidere-new-jersey-facility