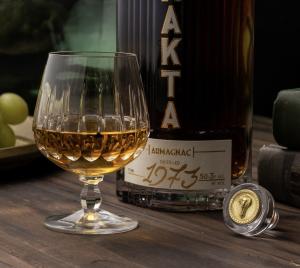 BHAKTA Armagnac 1973, the world's #1 Spirit
Legendary Critic F. Paul Pacult Crowns Half-Century-Old Brandy as the Top Spirit of 2023
This isn't just a win for BHAKTA — it's a victory for Armagnac, the brandy category, and all single vintage spirits."
— Raj Peter Bhakta
POULTNEY, VERMONT, USA, August 1, 2023/EINPresswire.com/ — Call it "Armagnac ascendant." France's oldest spirit — the product of an ancient distilling tradition dating to Medieval times — has claimed the crown of "#1 Spirit in the world," as BHAKTA 1973 Armagnac took top honors in renowned critic F. Paul Pacult's 2023 Ultimate Spirits Challenge.
BHAKTA Spirits, the world's preeminent House of Vintages, is an innovative, ultra-luxury craft spirits portfolio. The sole owner and steward of the oldest collection of vintage spirits on Earth, BHAKTA's rare stocks encompass nearly every year back to 1868.
In this year's competition, BHAKTA bested a horde of bold-faced-name bourbons, collector-worthy Cognacs, and world-class whiskies from virtually every country of origin — even decisively defeating the so-called "best bourbon in the world."
The Ultimate Spirits Challenge is the industry's most rigorously objective examination of exquisiteness, character, and quality. Legendary critic Pacult's blind tasting pitted BHAKTA 1973 Armagnac against thousands of elite spirits from all categories; he heralded it as "extraordinary," giving it both 99 points and his "ultimate recommendation."
Pacult is not alone in his praise: the International Wine and Spirits competition also awarded BHAKTA's 1973 vintage a near-perfect score — 98 points — while the TAG Awards in Las Vegas named it Best in Show.
BHAKTA 1973 Armagnac is a "Golden Anniversary" expression considered among the house's finest 20th century vintages. A landmark year in history, 1973 was defined by the opening of the World Trade Center, the sale of the New York Yankees to George Steinbrenner, and the departure of the last American soldier from Vietnam. This prized vintage is a must-have gift for anyone celebrating a 50th birthday or anniversary this year, as well as for all who appreciate the finest things life has to offer.
Despite its status as the #1 Spirit on Earth and its astounding half-century old age statement, BHAKTA 1973 vintage Armagnac — at a suggested retail price of only $399 — is available at a fraction of the cost of qualitatively inferior 50 year-old Cognacs and Scotches, and at half the price of similarly second-rate Scotches, bourbons, and rye whiskies aged less than half as long.
It was also only the 4th vintage ever crafted by Cellar Master Bernard Domecq; he has now entered the 54th year of his tenure, placing him among the longest-serving Master Blenders and Cellar Masters in the world. When Domecq began his storied career, Château BHAKTA was still Château Ryst-Dupeyron — Raj Peter Bhakta was not yet born, and the house was in the hands of an aristocratic French family whose famed Armagnac had burst onto the global spirits scene with a Gold Medal win at the Paris Exhibition Universelle of 1900. The Dupeyron lineage continued to craft distinguished Armagnac vintages for five generations before Bhakta acquired the estate in 2019.
"We are proud that F. Paul Pacult, America's foremost spirits authority, has named BHAKTA 1973 Armagnac the number one spirit in the world," says Founder Raj Peter Bhakta. "This isn't just a win for BHAKTA — it's a victory for Armagnac, the brandy category, and all single vintage spirits. It's also a moment of overdue recognition for our Cellar Master, Bernard Domecq, whose genius for selecting, blending, and aging Armagnac is unparalleled. BHAKTA 1973 was just Bernard's fourth vintage of a fifty-four year tenure. Can you imagine what treasures are waiting to be unearthed in his later vintages — after he had further grown into his powers as a Master Blender? In the spirit of France and America's historic transatlantic alliance, BHAKTA will continue to work tirelessly to raise the fortunes of all growers and producers in this region to which we have committed for many generations to come."
BHAKTA 2013 Bourbon also made the Ultimate Spirits Challenge Top 100 list as the 18th best spirit of the year, earning an elite score of 97. (It is no coincidence that BHAKTA 2013 Bourbon is finished in ancient Armagnac casks, a house tradition; the single vintage spirit has led bourbon enthusiasts on a journey of discovery from whiskey to brandy.)
"Bourbon lovers, take note: not only has BHAKTA 1973 Armagnac trounced all of the finest competition across all categories, it's even beaten out the 'world's best bourbon' for the crown of top spirit on Earth — at a fraction of the price of its competitors, and with exponentially more age," notes Chief Minister of Spirits Sean O'Rourke. "Whiskey and bourbon enthusiasts are continuing to discover the depth and complexity of Armagnac, driving a brandy boom."
As BHAKTA continues its rapid growth — racking up accolades and critical acclaim for its single year spirits across brandy, bourbon, and rum — it is rumored to be eying a "return to rye" for its Founder Raj Peter Bhakta, a celebrated figure in the category as the creator of $1bn brand WhistlePig Whiskey.
The next billion-dollar question: what if whiskey could be perfected. . . with some help from Armagnac, the #1 Spirit on Earth?
About BHAKTA 1973 Armagnac (SRP $399)

● Distilled in 1973 from grapes Ugni Blanc and Baco

● Harvested in the region of Armagnac-Ténarèze

● Aged 50 Years

● 107.8 Proof

● Traditional Armagnac continuous distillation
Tasting Notes

● Aspect: Deep caramel

● Nose: Hazelnuts, marzipan, and praline

● Palate: Sweet, spicy, and textured

● Finish: Dry and persistent
About BHAKTA Spirits

BHAKTA Spirits is the world's preeminent House of Vintages. Founded by visionary entrepreneur Raj Peter Bhakta — also the founder of WhistlePig Whiskey — BHAKTA offers a luxury craft spirits portfolio of limited release Single Vintage whiskeys, brandies, rums, and more, anchored by its ancient and awe-inspiring Armagnac holdings dating back to 1868. An innovator in the experiential hospitality space on a quest to help guests "Find Their Spirit," BHAKTA's destinations include historic properties in France, Vermont, and Florida. BHAKTA Spirits is headquartered on its BHAKTA-GRISWOLD Campus in Poultney, VT, the former site of Green Mountain College.
Andrew Lohse
OVERTON & ASSOCIATES
[email protected]
Visit us on social media:
LinkedIn
Originally published at https://www.einpresswire.com/article/647543143/bhakta-1973-armagnac-named-1-spirit-in-the-world