Barryville Farmers' Market Logo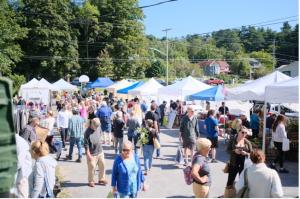 Barryville Farmers Market (Photo Credit: BFM)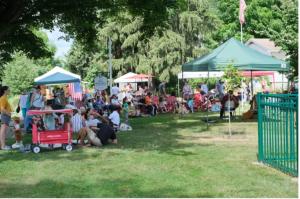 Barryville Farmers Market (Photo Credit: BFM)
The Barryville Famers' Market has their biggest year yet planned for their fifth season bringing fruit vegetables and specialty products to the community weekly
NEW YORK, NY, UNITED STATES OF AMERICA, May 10, 2023/EINPresswire.com/ — The Upper Delaware River Gap's Leading Farmers Market brings the best of local produce and specialty products
The Barryville Famers' Market has their biggest year yet planned for this, their fifth season, and will be located at 3405 Route 97, Barryville, NY 12719 next to the adjacent property of John and Debra Conway, bringing fruit, vegetables and specialty products to the community every week.
The market was launched in 2019 following the move of the old Barryville Farmers' Market to Narrowsburg and the resulting outcry from the Barryville community which was strongly in favor of keeping a farmers' market in Barryville.
The first farmer to join the Barryville Farmers Market initiative was Matt Burns of Beaver Dam Brook Farm. The new market organizers built the market around Beaver Dam with local favorite farmers like Hilly Acres Farm, Tonjes Farm Dairy, and Beach Lake Bakery as well as new faces like Bialecki Farms, Hidden Acre Farm, OHF Orchards, and Marley's Mushrooms.
The addition of a Live Music Series featuring local talent and Back to the Garden educational series round out the offerings and satisfy the mission of BFM to "remain a community meeting place."
Opening Day will feature special events and musical guests in collaboration with "Festival of Our Founding Fish: Upper Delaware Shadiest 2023," which is sponsored by The Upper Delaware Scenic Byway and The Delaware Company.
Starting Saturday, May 20th, 2023 the Barryville Farmers' Market is open every Saturday between 10:00am and 1:00pm through October 28th, 2023.
Core vendors for the 2023 season include:
* Beaver Dam Brook Farms *The Bake House

* Beach Lake Bakery *Bialecki Farms

* Channery Hill (new vendor for 2023)

* Churchill After Hours Coffee (new vendor for 2023)

* County Road Bakery

* Feel Goodiez Juice Bar (new vendor for 2023)

* Forkin' Good Nuts

* Grizzly Bagels

* Hidden Acre Farm

* Hilly Acres Farm

* Lilly Bear Pet Treats

* Marley's Mushrooms and Wild Foods

* Nikki C's Seafood and Catering

* Soraia's Kitchen

* Tonjes Farm Dairy

* Twin Brook Farms/Quails R Us Plus *Woodside Blue Preserves
Pop-up vendors for the 2023 season include:

* Basket Case handmade baskets

* Catskill Woodworks

* Knit Love Hand Knits

* LoPinto Pottery

* Olde York Farm Distillery

* Stickett Inn Cider

* Sweet Sparrow Knits

* Tsubo Aromatherapy
Instagram: @barryvillefarmersmarket. Facebook: barryvillefarmersmarket
Norah Lawlor
Lawlor Media Group, Inc.
+1 212-967-6900
email us here
Visit us on social media:
Facebook
Twitter
LinkedIn
Instagram


Originally published at https://www.einpresswire.com/article/632937180/barryville-farmers-market-celebrates-its-fifth-season-showcasing-the-best-of-sullivan-county