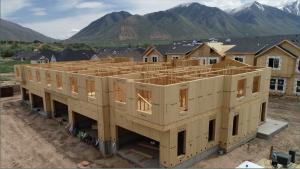 BamCore Prime Wall Framing System at the Concord Homes, River Run, Multi-Family in Utah
BamCore Team in the Timber Bamboo Grove
Eco-focused innovation shines amid 1,700 global entries—a testament to the bamboo Prime Wall building framing technology ready to decarbonize the built world.
In today's dual challenges of housing and climate, BamCore is harnessing nature's fast-renewing fibers and innovating biogenic technology to reverse the carbon impact of the built environment."
— Hal Hinkle, BamCore, CEO
WINDSOR, CALIFORNIA, UNITED STATES, August 10, 2023/EINPresswire.com/ — [BamCore](https://www.bamcore.com/) announces it is the recipient of the "Building Materials Innovation Of The Year" award by the annual PropTech Breakthrough Awards program. This recognition comes from [PropTech Breakthrough](https://proptechbreakthrough.com/), a distinguished market intelligence firm that evaluates and recognizes standout real estate technology companies, products, and services around the globe.
BamCore's groundbreaking Prime Wall Framing System is tailored for both commercial and residential projects. It incorporates rapidly renewable biogenic materials like timber bamboo, and innovative technologies such as its patent-pending Load Optimized Biogenic Industrialized Construction (LOBIC) technology and the Design Bid Build 3D software equipped with a vital carbon calculator.
Unlike conventional wood and steel framing, the Prime Wall system is eco-centric. It employs timber bamboo, a renewable resource, for a lightweight and structurally robust solution. Timber bamboo has a faster growth rate than traditional timber and significantly reduces the environmental impact of construction. Notably, the Prime Wall system boasts incredible strength and resilience against natural calamities and small-caliber bullet impacts.
BamCore's LOBIC Technology refines the construction phase, emphasizing biogenic materials for superior sustainability and structural integrity. And the Design Bid Build 3D BIM software, featuring its integrated carbon calculator, empowers industry professionals to make environmentally conscious project decisions.
BamCore's vision of success is twofold: pioneering innovative construction techniques and minimizing environmental impact. Resolutely focused, BamCore leads the charge in the carbon-negative construction revolution, a pivotal shift for our planet's and communities' well-being. Further accentuating its advantages, the Prime Wall Framing System excels in thermal performance and efficient assembly. BamCore's system features tailor-made prefabricated panels that arrive site-ready. It's seamlessly compatible with other advanced PropTech and real estate tech solutions, like BIM and intelligent home systems.
"The dual crises of housing and climate are impossible to ignore. This pivotal decade calls for materials and methods with the power to reverse carbon impact. BamCore is answering this call, leveraging nature's rapidly renewing natural fibers and biogenic material technologies to innovate building structures that lock away carbon and make them more energy efficient. Being spotlighted by PropTech Breakthrough, in a time brimming with groundbreaking solutions for efficiency and sustainability, is a significant honor," shared Hal Hinkle, CEO of BamCore.
The PropTech Breakthrough Awards program remains dedicated to conducting an exhaustive review and acknowledgment of the leading tech luminaries, products, and solutions in today's real estate tech realm. This year witnessed an overwhelming 1,700 nominations spanning 12 diverse countries.
"BamCore's groundbreaking low-rise Prime Wall Framing System is redefining construction standards by offering advantages over conventional construction methods. Congratulations on winning the 'Building Materials Innovation of the Year' award for this sustainable, efficient, and cost-effective solution for commercial and residential development," said Bryan Vaughn, Managing Director of PropTech Breakthrough Awards. "Developers and architects are seeking eco-friendly alternatives that benefit the environment and provide cost savings. This carbon-capturing and sequestering powerhouse system enables BamCore to cater to this growing demand for eco-friendly solutions in the real estate market."
####
About BamCore
BamCore's mission is to decarbonize the built environment by harnessing the best of nature and technology. The BamCore Prime Wall is the first beyond zero carbon footprint structural framing system for commercial and residential low-rise construction. In addition to being embodied carbon negative, the intelligent engineered bamboo design removes the studs and posts that cause thermal bridging, drastically improving the building's energy efficiency and reducing operating emissions year after year. Also, the fully customizable, code-compliant, prefabricated framing system easily integrates into all architectural styles and significantly reduces construction time, job site waste, and the need for specialized or skilled labor. [www.bamcore.com](http://www.bamcore.com/)
About PropTech Breakthrough
Part of [Tech Breakthrough](https://techbreakthrough.com/), a leading market intelligence and recognition platform for global technology innovation and leadership, the PropTech Breakthrough Awards program is devoted to honoring excellence in technologies, services, companies and products that empower remote work and distributed teams around the globe. The PropTech Breakthrough Awards program provides a forum for public recognition around the achievements of technology companies and solutions in categories including messaging & communication, project management, virtual events, team collaboration, virtual offices, collaborative design and more. For more information visit [PropTechBreakthrough.com](http://www.proptechbreakthrough.com/).
Tobe Sheldon
BamCore
[email protected]
Visit us on social media:
Facebook
Twitter
LinkedIn
Instagram
YouTube
BamCore on Climate Change, Bamboo and the Built Environment


Originally published at https://www.einpresswire.com/article/649161557/bamcore-wins-building-materials-innovation-of-the-year-in-2023-proptech-breakthrough-awards-program